Molybdenum mining, application and market development in China
Author:kangbote Time:2020-05-21 14:43:16
Molybdenum mining, application and market development in China
3 Application status of molybdenum in China
China's use of molybdenum accounts for about 30% of the global total (including recycled molybdenum). Figure 5 compares the application of molybdenum at home and abroad. Molybdenum applications are dominated by alloy steel and stainless steel. Compared with other countries, China uses lower amounts of molybdenum in superalloys, stainless steels, and alloy steels, while it uses higher amounts of molybdenum in tool steels, high-speed steels, molybdenum metals, castings, and chemicals.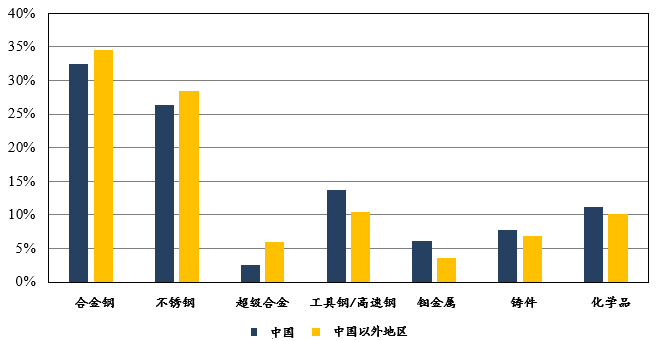 Figure 5 Application comparison of molybdenum in China and other regions in 2017 (excluding recycled molybdenum) (Source: SMR)
The main end uses of molybdenum and related application areas are shown in Figure 6. The differences between China and the rest of the world are obvious. Especially in the oil and gas industry, the proportion of molybdenum used is obviously low. Part of the reason is that China is not a major oil producer. In addition, the production of pipeline steel is highly dependent on pipeline projects under construction. The production of pipeline steel was relatively low in 2017, but the consumption of molybdenum in other years was relatively large. For example, the West-to-East Natural Gas Pipeline constructed in recent years, the commonly used X80 pipeline steel (containing 0.2-0.3% molybdenum) and welding consumables used in the manufacture and installation of pipelines have a molybdenum consumption of approximately 10,000 tons per pipeline. The consumption of molybdenum in the fields of automobile, aerospace and defense is also relatively small. Although China is the world's largest vehicle producer, the use of molybdenum in transmission system engineering steel is relatively small. In addition, turbochargers that require molybdenum-resistant heat-resistant alloys are not very popular in China. The low usage of molybdenum in the aerospace / defense field is mainly due to the fact that aircraft turbine engines have not yet been domestically produced.
In contrast, China uses more molybdenum in industries such as chemical, construction, mechanical engineering, consumer products, electronic products, medical equipment, other processing industries, and power generation. Due to the overall economic growth, there has been a lot of investment in these areas. In addition, the goal of producing high value-added and internationally competitive products has also driven the application of molybdenum.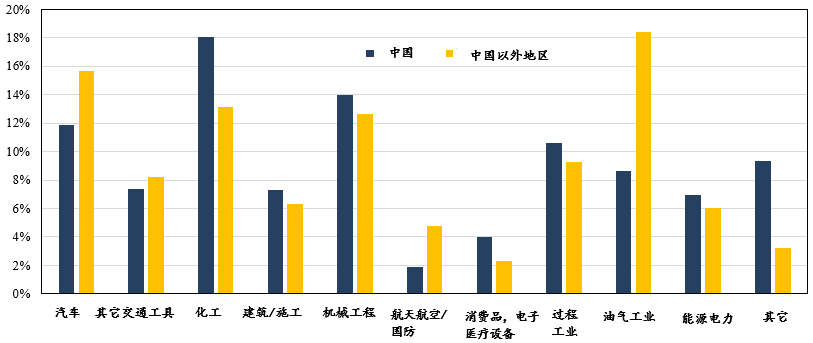 Figure 6 Comparison of the end use of molybdenum in China and other regions in 2017 (including recovered molybdenum) (Source: SMR)
4 China's molybdenum market development activities
In China, alloy steel accounts for the largest share of molybdenum consumption, followed by stainless steel, which is similar to other regions. However, although China's current production of carbon steel and stainless steel accounts for 52% and 53% of global output, respectively, the proportion of molybdenum used as an alloying element is still lower than other markets. In China, the consumption of molybdenum (including recycled molybdenum) for carbon steel production is 55 g / ton, while the average molybdenum consumption in other major steel-producing countries is 133 g / ton. The consumption of molybdenum for stainless steel is 1.1 kg / ton, and it is 2.9 kg / ton in other major stainless steel producing countries. Therefore, the adoption of alloy material design solutions from other regions, the layout of product development and the localization of production, to increase the application proportion of molybdenum in China's steel industry, has great potential. The comparison of alloy steel terminal application fields shown in Figure 7 shows that automotive steel should be the focus of molybdenum market development, because the gap between China and developed markets in the automotive industry is the largest. The automotive industry is highly globalized, and major producer countries need to localize alloy materials. Other markets to be developed are machinery manufacturing and the production of heavy transportation equipment.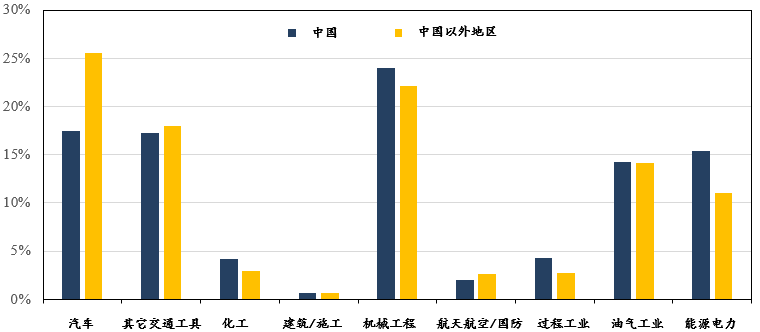 Figure 7 Comparison of final application areas of alloy steel in China and other regions (Source: SMR)
Over the past 20 years, China's steel industry has made significant investments in production equipment. Therefore, China has some of the most advanced and powerful equipment capable of producing and processing cutting-edge steel products. In many such advanced steel products, molybdenum is an alloying element that can play a decisive role. The benefits of molybdenum for improving steel properties go far beyond improving strength and hardness. The little-known advantages of molybdenum alloying in metallurgy often make it the ideal alloying element for advanced manufacturing technology and high-end applications today. Therefore, it is necessary to show and publicize all the potential metallurgical advantages of molybdenum alloying. In addition, it is important to clarify that the benefits of molybdenum-containing steel outweigh the additional alloy cost.
IMOA 's market development program is dedicated to disseminating the benefits of molybdenum alloying, demonstrating cost-benefit analysis and discovering new beneficial metallurgical effects. The implementation of the market development plan includes three main activities, namely the spread of knowledge, the implementation of alloy selection and the establishment of knowledge reserves. In terms of knowledge dissemination, we regularly visit steel producers and end users and hold internal seminars. Sometimes seminars will be organized to convene experts from various fields in related fields. For some important emergency situations, through direct consultation and technical support services to help users choose alloy materials. Due to the huge scale of China's metallurgical industry, academic research activities related to alloy materials are more common than abroad. IMOA interacts with Chinese research institutions through academic lectures or funded R & D projects, imparts existing knowledge to the next generation of metallurgical workers, and creates new scientific cognition. All IMOA market development activities have always focused on the priority areas of China's economic and industrial development. The IMOA market development plan is divided into multiple stages. The initial focus is on steel for infrastructure, including high-strength pipeline steel. Later, the development of ultra-high-strength steel for light passenger cars and commercial vehicles became the main field. Two important projects are currently underway: cooperation with Shanghai University to explore the impact of molybdenum alloying on the performance of cast iron parts, and cooperation with major domestic special steel manufacturers and automotive and large mechanical gear manufacturers to develop new high-performance gear steels.