Molybdenum mining, application and market development in China
Author:kangbote Time:2020-05-20 16:54:39
Molybdenum mining, application and market development in China (1)
Abstract:
About 80% of the globally mined molybdenum (excluding recycled molybdenum) is used as an alloying element in steel. Overall, the consumption of molybdenum in China is still lower than that in developed regions such as Europe and the United States. This difference is obvious in both carbon steel and stainless steel, which means that with China's independent research and development of more advanced materials, molybdenum has ushered in an important opportunity for application expansion. The active market development is of great significance to this, which is also the cause of the International Molybdenum Association (IMOA). This article summarizes the state of mining, use and market development of molybdenum in China.
1 Global reserves of molybdenum resources
According to the US Geological Survey (USGS), about half of the global reserves of molybdenum resources are in China, and 40% of molybdenum reserves are in North and South America (see Figure 1). USGS believes that "... in the foreseeable future, molybdenum resources are sufficient to meet the needs of the world." Figure 2 shows the main regional distribution of the output of primary molybdenum products (ie, molybdenum mined by mines). The total output is about 259,000 tons, which is evenly distributed in the three major producing areas of China, South America and North America, and China is by far the largest producer of molybdenum. Figure 3 shows that China is still the world's largest consumer of molybdenum, but neither supply nor demand dominates the international molybdenum market because China is basically self-sufficient. East / West trade accounts for only a small part of its total supply and demand. Imports are mostly raw materials, while exports are mainly downstream high-value-added products. Therefore, molybdenum trade activities follow a fixed pattern.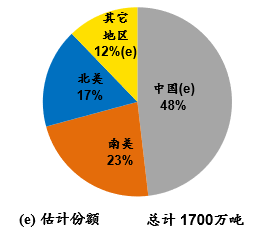 Figure 1 Distribution of proven molybdenum resources worldwide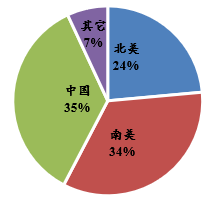 Figure 2 Regional distribution of global molybdenum production (based on 2018 output of 259,000 tons, excluding waste) (Source: IMOA)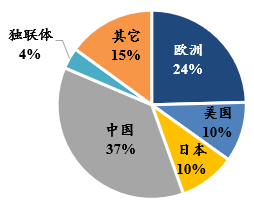 Figure 3 Regional distribution of global molybdenum consumption (based on 2018 consumption of 264,000 tons, excluding waste) (Source: SMR)
2 Molybdenum mines and products in China
In 2018, China's molybdenum consumption reached a record 97,000 tons, and molybdenum production was close to 92,000 tons. Therefore, China is a net importer of molybdenum. Most of China's molybdenum production (85%) comes from primary molybdenum mines, and the rest are by-products of copper mines.
The main producers of molybdenum concentrates in China are Jinduicheng Molybdenum, Luoyang Luanchuan Molybdenum, Yichun Luming Mining and Zhongjin Manzhouli. Some major production companies have integrated downstream capacity to produce value-added molybdenum products and directly supply users. However, a considerable number of mining companies only produce molybdenum concentrate, relying on independent smelters and downstream companies to produce metallurgical and chemical products required by the market.
The rapid growth of China's steel industry (currently exceeding 50% of global production) and the limited supply of local scrap steel mean that demand for major raw materials such as ferro-molybdenum (FeMo) will continue to rise. Over the past three years, the share of ferro-molybdenum has been steadily increasing. In 2018, the proportion of ferro-molybdenum in China's total molybdenum production exceeded 80%, while the output of molybdate decreased during the same period (see Table 1).
Table 1 China Ferro Molybdenum (FeMo) and Molybdate (MoO42−) Production, 2016-2018 (Source: Yilan, IMOA)

China's ferromolybdenum production is mainly concentrated in Liaoning, Henan and Shaanxi provinces. The production of ferromolybdenum in Shaanxi and Henan is concentrated in Jinduicheng and Luoyang Molybdenum, while the production in Liaoning is scattered and there are nearly 20 active producers. The top three companies in Liaoning Province are Xinhualong Molybdenum, Huludao Wanfeng Metal and Chaoyang Jinda Group, whose output is close to half of the total ferromolybdenum production in the region (see Figure 4).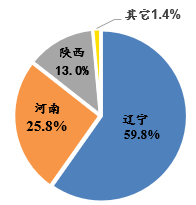 Figure 4 Distribution of China's ferro-molybdenum production by province in 2018 (total output 74,400 tons)
TAG:&nbsp&nbspmolybdenum&nbsp mining