A warm welcome to the Iranian guests to visit our company to discuss
Author:kangbote Time:2016-10-28 15:09:56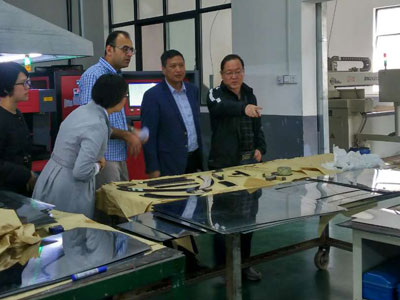 October 27, 2016, the Iranian government suppliers to visit Luoyang Kang special tungsten and molybdenum Material Co., Ltd. visited the talks. Kangbao special tungsten and molybdenum, general manager, technical workers and other workers a cordial reception.
Iranian guests have visited the Kangbao World Trade Office building and high-tech production base, efficient production line praised. General Manager vividly introduced the product type and development plan of our company, the technical chief engineer explained the production process of tungsten and molybdenum processing products in detail. Iranian guests of the Division I product line and equipment, strong interest in technology, expressed a strong willingness to cooperate and share with us the bilateral market conditions,
During the visit, Iranian guests from time to time for all aspects of production questions, our technical staff on the design, quality control, production, quality inspection one by one to make a detailed answer. Iranian side of the nodded nodded praise, on the professional competence of our company affirmed.
After the visit, the Iranian guests are pleased to sign the long-term supply contract for molybdenum products and will visit our company again at the end of the year. We are optimistic about Kangbao's products and business model and look forward to closer exchanges and common development.