Combat's 2020 year-end ceremony and employee dinner ended successfully
Author:kangbote Time:2021-01-06 16:47:38
Combat's 2020 year-end ceremony and employee dinner ended successfully
On December 30, 2020, Luoyang combat Tungsten and Molybdenum Materials Co., Ltd.'s 2020 year-end ceremony and employee dinner was held at Yanjiangnan Hotel in Luolong District. Focusing on the theme of the annual meeting of "Leaping Dreams and Leading the Future", the company's general manager Xu Jianmin, leaders of various departments and all employees gathered together to review and summarize the company's achievements in the past year and look forward to the new year's development prospects and plans.
Part 1: Leader's speech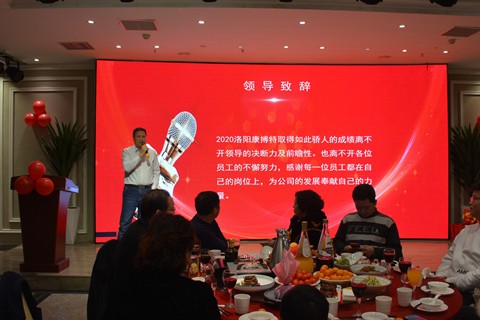 The company's general manager Xu Jianmin took the lead in giving a speech. Mr. Xu expressed his gratitude to the employees for their hard work throughout the year and encouraged the new year to make persistent efforts and achieve better results. Subsequently, Deputy General Manager Li Hongwei made a detailed annual report on the company's development and operation status in 2020, and pointed out the outstanding points and shortcomings of various tasks. Finally, Xu Zhen, director of the Ministry of Foreign Trade, summarized the past year.
Part 2: Talent Show
Colleagues from the domestic trade, foreign trade and financial departments of combat are versatile and present carefully prepared programs for everyone. The atmosphere of the party reached a climax in the singing and dancing.
Part 3: Easy Mini Games
In the game session, there were three mini-games: "Shuttlecock Contest", "You Paint I Guess", and "Guess the Singing Words". Everyone participated actively and the enthusiasm was high. Mr. Xu and Mr. Zhang respectively presented prizes to the winners.
Finally, at the end of the annual meeting, Mr. Xu presented holiday benefits to everyone and all employees took a group photo. This annual meeting is the first year-end ceremony held by combat since its establishment. The event was planned and executed by Zhang Yake, the leader of the foreign trade group A, and hosted by Zhang Qian, a foreign trade salesperson, and Huang Xiaoli, a colleague in the operation group. All colleagues who worked hard to prepare for this event thank you. As the general manager Xu said, in the new year, combat will continue to ride the wind and waves to provide our customers with the best quality service and create greater value.